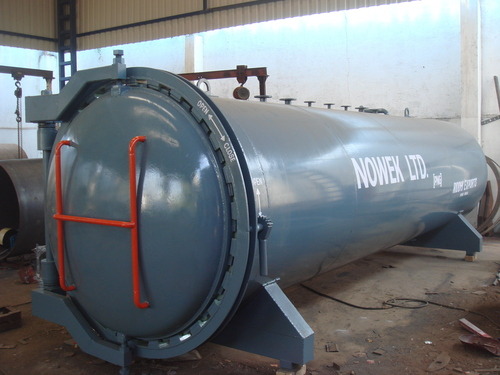 Product Description
Owing to the vast manufacturing facility and a competent team of personnel, we are engaged in delivering a superior range of Timber HT Plant. These products offered by us are best suited for for vacuum pressure impregnation of timber with water borne preservatives like CCA, ACC and Boron. These products provide records of solution strength, timing of vacuum & pressure, average absorption obtained per CFT of preservatives. Mentioned below are the processes conducted by these treatment plants:
Pressure process
Vacuum & pressure or full cell or bethel process
Lowery process
Reusing process
Advantages:
A horizontal pressure vessel placed above the underground constructed storage tank, due to which no pump is required for transporting the solution from vessel to the storage tank. The solution will move by gravity that makes the plant very compact. This, minimize the land area
This tank is used for mixing the concentrated preservative chemicals with water by using pressurized air bubbling through number of nozzles at the bottom of the tank
This mixes the chemicals with water when prepared new solution as well as per day before starting the process
The design of these treatment plants prevent the tightening & opening of number of bolts & nuts with spanners as per old Indian designs
The underground RCC concrete tank used in these treatment plant works as a measuring tank as well as mixing tank
The installation can be carried out within 4-5 hours
The plant can also be shifted or re-located to another site, when required
Designed with a quick locking door of taper wedge lock, these can be quickly operated by rack & pinion and taper ring designed that is quick operated by heavy screw & wing nut
Known as a turn-key unit, these treatment plants are ready for operation immediately after being leveled on the concrete foundation and assembled the ready made piping with valves and connected to electricity and water
Features:
All pumps, valves & components are of well-known standard brands
Main parts of valves and pumps are made of stainless steel
In line, filters in front of all pumps
All piping are with flange fitting type
Technical specification.

| | |
| --- | --- |
| Temperature | 20-120 degree |
| Vacuum Degree | -0.098Mpa |
| Pressure | 1.58Mpa |
Capacity/Power:
120CFT/8.5hp, 150CFT/8.5hp, 200CFT/8.5hp, 280CFT/10.5hp, 325CFT/10.5hp
Get in touch with us